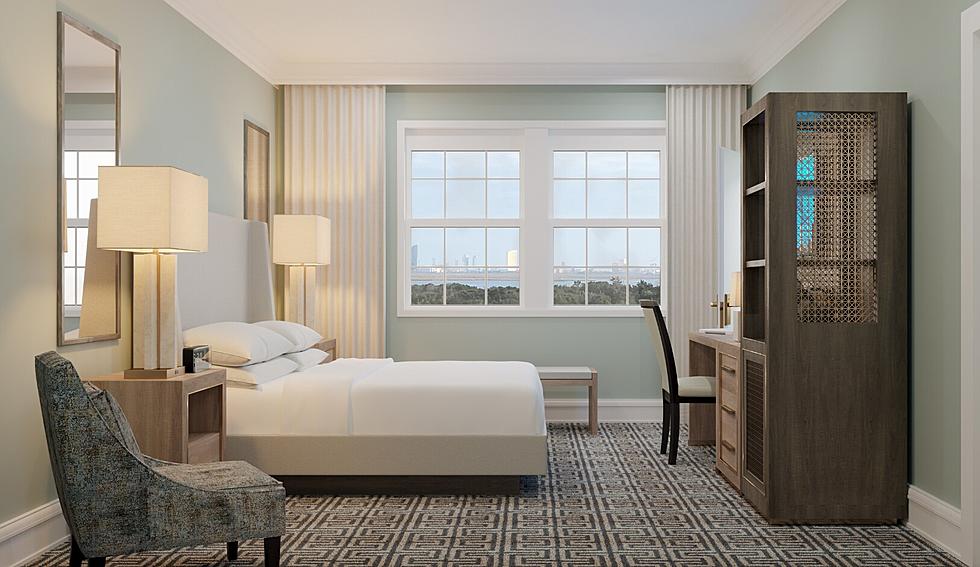 Seaview Hotel Offers a Look at $17M Renovation Plan
Seaview Hotel/new room image
After telling you that the new owners of Seaview Hotel and Golf Club in Galloway plan to lay off 229 employees in late November, we thought it was only fair to let you know why those workers are facing a winter layoff.
Tuesday, Seaview announced plans for a multi-million dollar renovation updating its 296 guest rooms, event spaces, and dining outlets with modern design "inspired by the hotel's celebrated Jersey Shore history."
According to a press release, the $17 million renovation will include updates to all 296 guestrooms and suites; refreshed meeting spaces, lobby and public areas; renovations to the outdoor pool; and new dining options including a new original restaurant concept within the hotel's famed Oval Room.
To sustain the massive renovation, guest rooms and meeting spaces will be closed to visitors for the winter months, reopening starting in March, 2019. The hotel's golf course remains open.
"Seaview is a beloved icon of the Jersey Shore community with a rich local history shared by many guests who have spent generations vacationing here – and even team members who spend their entire careers, some of them across several generations of families, working with us at the resort," said General Manager Bob Nelson. "This transformation is the dawn of a new era for Seaview and will provide our guests a modern east coast destination resort and, true to the Dolce brand, a harbor for inspired meetings and events - all while still embracing the past that shaped our celebrated story."
Founded in 1914, the historic Seaview Hotel has hosted famed names such as Presidents Warren G. Harding and Dwight D. Eisenhower, The Rolling Stones, Bob Dylan and Grace Kelly - who in 1946, celebrated her sweet 16 party in the resort's legendary Oval Room.
More From WPG Talk Radio 95.5 FM