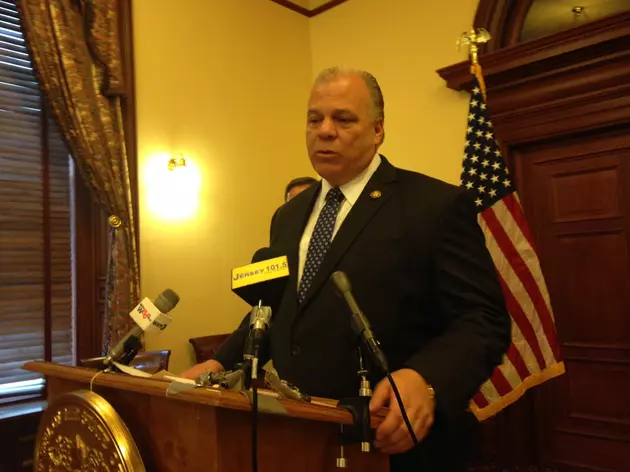 Horizon 'In the Conversation' as Shutdown Continues, Sweeney Says
NJ Senate Pres. Steve Sweeney (David Matthau, Townsquare Media NJ)
TRENTON — State Senate President Steve Sweeney is "publicly demanding" a meeting between Assembly Speaker Vincent Prieto, Senator Joe Vitale and Bob Marino, the CEO of Horizon Blue Cross Blue Shield as a way to break the state budget impasse.
"This is nonsense that we can't get a meeting to try to start a conversation," Sweeney said at a Sunday press conference. "Whether people like it or not they're in the conversation right now."
Sweeney supports Gov. Christ Christie's plan to use the insurer's reserves to fund opioid addiction treatment. The Senate has approved a compromise version of the Christie plan written which was by Sen. Joe Vitale.
The governor, Sweeney said, is not invited to the meeting. "Right now this is a legislative issue. The governor doesn't need to be at a meeting between the two houses and the party that is being impacted," Sweeney said.
Prieto is opposed to the idea, and has refused to introduce the bill for a vote which has held up approval of a state budget, leading to a shutdown of state government.
Sweeney said "we are way beyond the time to get this resolved," and called for the meeting to begin at 1 p.m. at the Statehouse.  He was also critical of the insurance company's reasons for why Christie's plan would hurt their clients and lead to rate hikes."
"We can bring group after group to tell you what's going to happen to them if they lose their funding, and we want to start having an honest dialogue rather than what's been going on with Horizon with misleading statements they've been making. There's no $300 million grab, but it keeps being reported and it keeps being repeated," Sweeney said.
Sweeney said he and Viatle have been asking for a meeting for over a week.
The senator said he was sympathetic to the closure of state beaches and parks, including Island Beach State Park, the largest visible impact of the shutdown.
"A lot of people's plans have been changed and it's not fair to think the insurance company can just ignore us," Sweeney said.
Kevin McArdle, a Horizon spokesman said "Marino will absolutely attend," and added he "looks forward to hearing how our concerns and the concerns voiced by New Jersey's business, labor, and reform communities can be addressed, particularly with all the uncertainty about health care coming from Washington."
More From WPG Talk Radio 95.5 FM