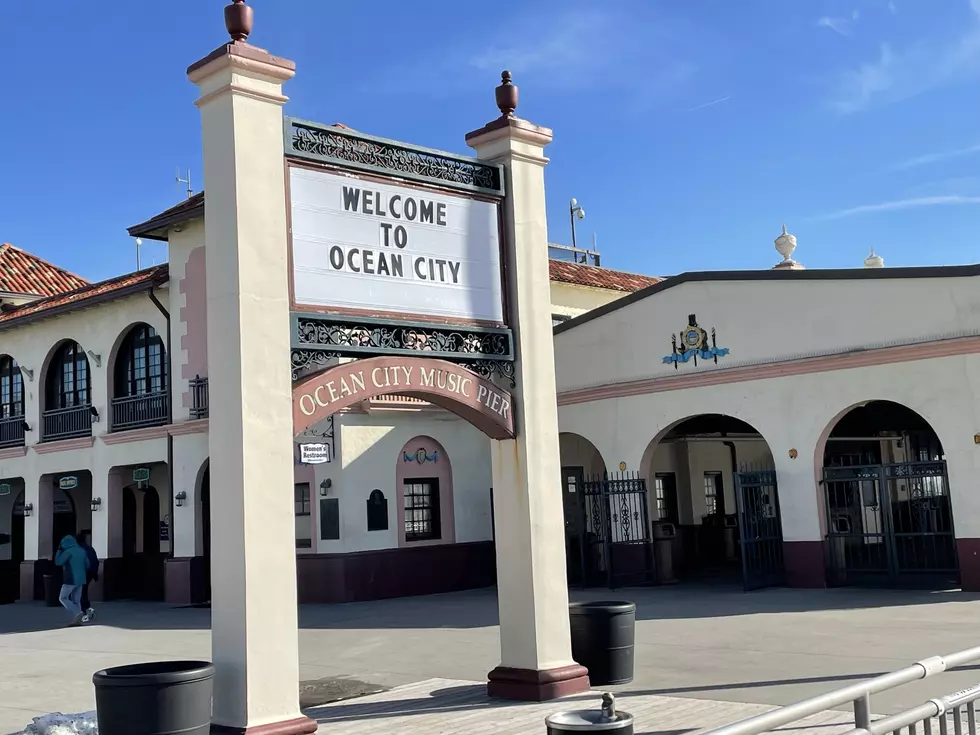 The 'Miracle' On 9th Street In Ocean City, New Jersey
Don P. Hurley photo.
If you don't believe in miracles … you just might after reading about this recent moment of truth … that could easily have ended disastrously. So many things had to go right for it not to end in death.
This is not hyperbole. This is a true story.
The Ocean City Beach Patrol lifeguards were already done for the day, when a courageous young man, Jesse Stokes acted with no regard for his own life and displayed great heroism.
Because of the decisive actions taken by Jesse Stokes, we can (instead) report about a wonderful, feel good story with a very happy ending.
Stokes' Grandmother Marie called-in today, on-air and told us about this amazing story involving effective, split-second action taken by her Grandson, Jesse.
Marie made it clear that her Grandson has sought no publicity or glory whatsoever for his brave act, which saved another person's life during a challenging riptide in the Atlantic Ocean, at 9th Street in Ocean City.
When Marie told Jesse that she discussed his rescue effort with me on-air and that we would be following-up with this article … Jesse's first comment was:
"Mention The Lord, Mention The Lord." This is how Jesse lives his life on a daily basis.
Jesse is a person of supreme faith, so it is no surprise that he was willing to risk his life to save another.
Here is the amazing real life story:
On Sunday, June 5, 2022, on the beach at 9th Street in Ocean City, Jesse was sitting on the beach with his girlfriend.He was praying as he often does. Jesse is 21 years old and a senior at Carin University (formerly named Philadelphia Biblical University) in Langhorne, Pennsylvania.
Jesse is seeking a degree in Christian Studies and a Masters Degree of Arts and Religion.
As told by Marie, from Jesse …

"Another family was also there enjoying the beautiful day."


Jesse heard them yelling for help and saw two young men (brothers) in distress out in the ocean.  One of them was holding onto the rocks, and his brother was being swept under the water near by, apparently caught in a riptide," said Marie.
Jesse ran into the water to help a 17-year-old boy named David, who had found himself in a dangerous situation.
As many people do, when they believe that they are going to drown … David's first move was "pull on Jesse and take him under the water," said Marie.
Jesse was able to execute a textbook maneuver, and got away from David's grasp and re-approached him from behind.
Jesse began to swim to the shore, while holding on to and towing David. Jesse was unable to get to the shore line because of the strength of the riptide.
The situation was dire at this point.
Somehow, Jesse was able to hear people from the beach yelling for Jesse to swim sideways, with the riptide and not try to swim against the riptide.
Jesse succeeded in making it back to shore with David.
David was attended to by medical personnel. His situation was serious and required him to be hospitalized for three days.
Jesse stayed in touch with the family, who are from Philadelphia. The family are very grateful for Jesse's unselfish act.
Marie told us:
"I believe that the Lord placed Jesse on the beach that day to save that young man."


"I think God will use Jesse in many ways as he goes forward in his career to be in the Lord's service.


"As you know, this could have had a tragic ending with two deaths by drowning."

"Thank you Lord, for my grandson Jesse, the day he was born this world indeed became a better place," said Marie.
Jesse also figured these additional things out out and it just can't be a coincidence.
In the scriptures, Jesse is the father of David. Soloman is David's brother, who was hanging on to the rocks.
Delilah is the name of their Mother.
Marie concluded with:

"Jesse runs a small little landscaping business in order to pay for his tuition.

He lives in Linwood."


"He has a heart for the youth in his community and has been allowed to give the message of the gospel at Mainland Regional High School, many times."


"Jesse does this through an organization, the Foundation of Christian Athletes," said Marie.
There is little doubt that this was The Miracle on 9th Street in Ocean City.
To quote the great Al Michaels … "Do you believe in Miracles … Yes!"
SOURCE: Marie Stokes.
Ocean City's Famous The Painted Lady is for Sale
More From WPG Talk Radio 95.5 FM