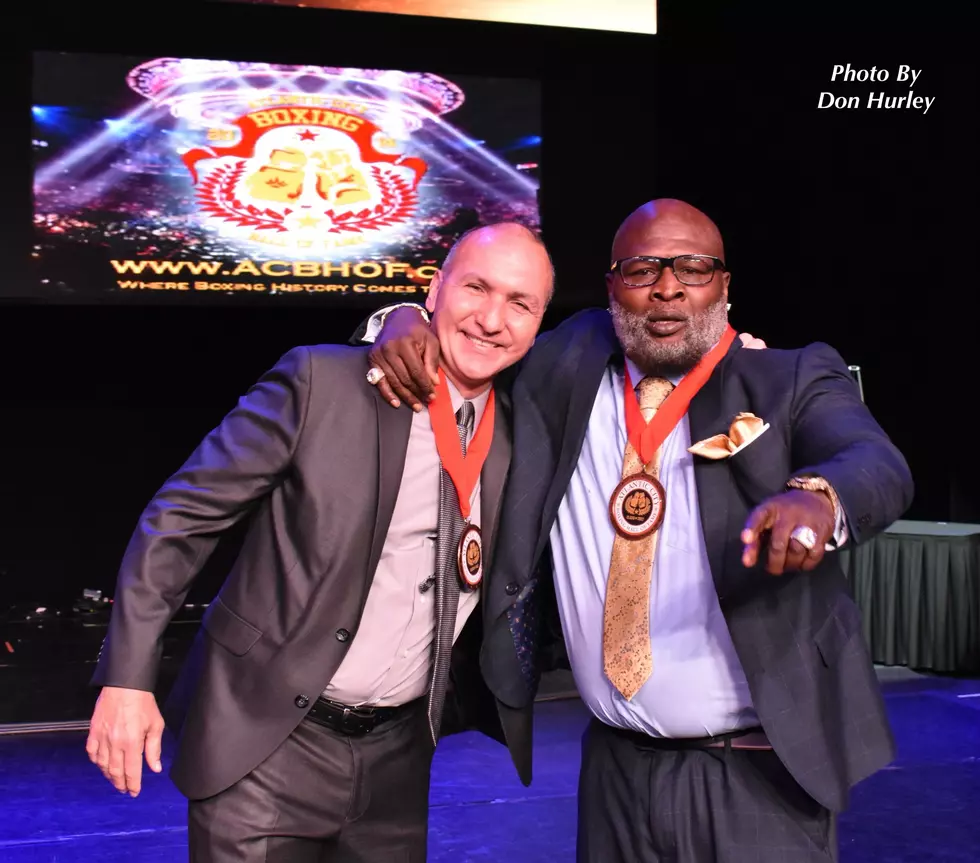 Toney-Tiberi Atlantic City Boxing Photo That Is 30 Years In The Making
Dave Tiberi & James Toney - Don P. Hurley photo.
There are times in life when two people become inexorably linked to one another forever.
Such is the case with two former professional boxers named James "Light's Out" Toney and Dave Tiberi.
These two men have been directly connected together since February 8, 1992, when they fought for the IBF middleweight (160-pound) championship of the world.
The fight ended with a decision that was so controversial in nature, that it led to a United States Senate Congressional investigation.
Toney was awarded a highly controversial victory by split decision … a verdict that most fair-minded people were outraged by.
As it turned out, two of the judges were not even certified to judge a fight in New Jersey. Both scored Toney the winner by the lopsided score of 117-111. It was disproportionate to reality and simply outrageous.
I have waited for more than 30 years to be able to properly address this issue, with the direct involvement of Tiberi himself, who was in Atlantic City this past weekend for the 2022 Atlantic City Boxing Hall of Fame induction ceremony.
Until last evening, Sunday, October 9, 2022, Toney and Tiberi had not seen each other in more than 30 years.
And, Don Hurley took the first photo of Toney and Tiberi in more than 30 years.
Don described it as a "magical moment, that many in the boxing world and beyond thought would never happen. It was a profound reunion of these two men, who were once fierce opponents more than 30 years ago," said Don Hurley.
Here's the Don Hurley photo:
From the book "Tiberi: The Uncrowned Champion," the comments were very unambiguous, including those from future United States president Donald Trump as follows:
For almost two decades, Toney maintained that he won the Tiberi fight. He has since finally admitted that he lost the fight.
Don Hurley, working on this special assignment for "Hurley in the Morning," obtained a one-on-one interview with Tiberi.
Their conversation was fascinating and we have memorialized it here.
The fight resulted in one of Boxing's worst decisions ever
and resulted in a full-blown United States Senate investigation, which would take sworn testimony in their
investigation of corruption in Boxing in efforts to reform the sport.
The fight and Tiberi's sworn testimony and work after the
fight was also most notably recognized as the impetus for passage of "The Muhammad Ali Boxing Reform Act" of 2000.
Don Hurley and Tiberi's conversation was fascinating and we have memorialized it here.
"God had other plans for me, said Boxer Dave Tiberi. I should have been crowned champion on that cold night in Atlantic City, and instead was directed to another more important fight in life to help bring reform and fairness to Boxing as a sport and business," said Tiberi.
Don Hurley said that "The Muhammad Ali Act" for the first time established federal responsibility and oversight for the sport of Boxing for all involved. From the fighter's themselves to the Promoters, Trainers, Managers and the
Judges who score their fights, the act was established in
order to ensure the safety and welfare of professional fighters," said Don Hurley.
"This was more important fight than any Boxing match could have ever been, said Tiberi. "With regard to the fight, I went in very confident and more well-prepared than ever before. I was sure that I had the style to
defeat Toney, because I felt that I was going to beat him at his own game. You see, James Toney was used to pushing everyone else around in the ring. We developed the perfect fight plan, where I was going to push him around all over the ring and out-punch him for the
entire 12 rounds of the fight," said Tiberi.
"And that's what we did. By the 6th round Toney was breathing so hard it sounded like a freight train was inside the ring with us. I knew I had him."
"At the end of the fight we were standing in the center of the ring with with referee Robert Palmer holding both of our hands in preparation for the decision to be read to
the crowd at The Trump Taj Mahal and the viewers watching on television around the world."
"I knew I had clearly won the fight and was only waiting for Ring Announcer Michael Buffer to utter those words precious to a Boxing title challengers ears..." and the new champion"…and when I heard him say "the winner and still champion" (James Toney) I was devastated
and actually momentarily questioned my faith in God. But
only for a moment. As I said earlier, God had other plans for me,"said Tiberi.
"Plans which I couldn't understand at that moment, but which revealed themselves to me thereafter. I turned down huge money following this travesty for a rematch with Toney and never fought a professional Boxing match, said Tiberi.
"I would have agreed to all of the proposals for a huge pay per-view event and rematch with Toney. But only under one condition. I would only do it if I
was awarded the title and walked into the ring as the
rightful champion I was in a re-match. This was not to be
though," said Tiberi.
"But what I learned very clearly from the events of that evening 30 years ago in Atlantic City, was that no one needs to strap a belt around your waist to be a
champion in Boxing, and more importantly in life," said Tiberi.
"All things are possible in this life. That's for sure. It was
so fitting that a reunion between James and I would happen after three decades in this very same
building where the whole thing went down, The Hard Rock Casino is the former Taj Mahal
in Atlantic City," said Tiberi.
"So I'm happy that it happened right here if all places. We even danced together on stage to the music of the great band who were playing live. Who would believe it? Although there was no dancing in that ring 30 years ago. It was toe to toe for 12 rounds. (Big Smile)," concluded Toney.
SOURCES: Dave Tiberi, Don Hurley & Tiberi: The Uncrowned Champion.
Atlantic & Cape May County, NJ Favorite 'Trick Or Treat" Candy
Atlantic City Area Readers Submit Cell Photos Of Favorite Meals
More From WPG Talk Radio 95.5 FM