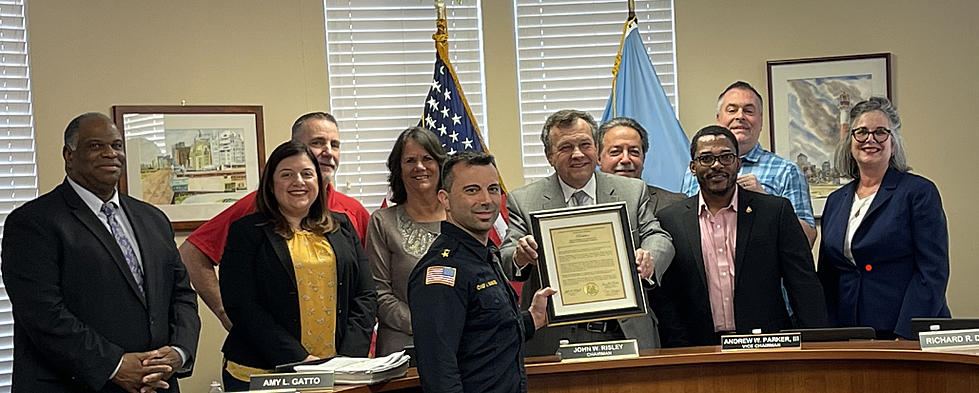 Atlantic City Police Chief Sarkos Receives County Recognition
Atlantic County Board of Commissioners photo.
The Atlantic County Board of Commissioners has formally acknowledged the great police leadership efforts being demonstrated by Atlantic City Police Chief James Sarkos.
In an official County of Atlantic resolution, sponsored by Commissioners Caren Fitzpatrick and Ernest Coursey and also signed by Board Chairman John Risley … it reads in part:
"Chief James Sarkos has led culture changes in the Atlantic City Police Department that resulted in only one excessive force complaint in 2022, and he has stressed efforts to utilize de-escalation techniques while interacting with the community."
The Atlantic County Board of Commissioners also praised Sarkos' actions as the Atlantic City Chief of Police as follows:
Sarkos has installed "training techniques have been implemented where other officers can intervene during an interaction to assist. Many community outreach activities have been expanded to include: Pizza with a Cop; Coffee with a Cop; Community Walks; a PAL Wrestling Program; expansion of the NCO Program; appearing at civic and community meetings; acting as liaison with the Police Advisory Committee and the Investment with the Coalition for a Safe Community."
The Atlantic County Board of Commissioners have credited Sarkos with changing the culture of law enforcement in Atlantic City.
We take this opportunity to make one correction regarding Chief Sarkos' County recognition award.
The Atlantic City Police Department has shined in the area of reducing the number of excessive use of force complaints over the past few years.
The Atlantic City Police Department did not have one excessive force complaint filed in 2022 and only 1 excessive force complaint in 2021.
For a police department the size of Atlantic City to have just 1 excessive force complaint in the past two years is remarkable.
More than 20 million visitors come to Atlantic City each and every year … along with 40,000 residents.
Atlantic City Area: Readers Share Favorite Childhood Memories
What Are These Atlantic & Cape May, NJ Communities Best Known For?
More From WPG Talk Radio 95.5 FM