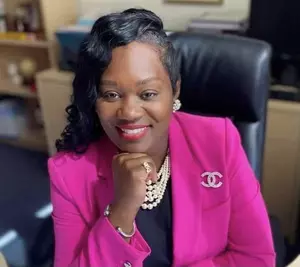 Dr. La'Quetta Small Poised To Become Next Atlantic City Superintendent
Dr. La'Quetta Small - Principal - Atlantic City High School - Facebook photo
BREAKING NEWS EXCLUSIVE
A special meeting of the Atlantic City Board of Education has been called for this Tuesday, October 26, 2021, beginning at 6:00 p.m.
We have learned and confirmed that the purpose of this meeting is to invoke the "Doctrine of Necessity" and appoint a new Atlantic City Superintendent of Public Schools.
This action is a very big deal.
Current Superintendent Barry Caldwell has continued to serve while the Board has addressed the expected vacancy.
Under John Devlin's previous Board Presidency, the Board was taking the approach of doing an elaborate search for the next Superintendent.
The Board had received 27 applicants, who have expressed interest and applied for the coveted position.
During the current Shay Steele Board Presidency, the search process was essentially scrapped.
This brings us to what will happen this Tuesday.
You can expect that when all the Board Member votes are counted, Dr. La'Quetta Small will be the new Atlantic City Superintendent of Public Schools.
Dr. Small is the wife of Atlantic City Mayor Marty Small, however, in fairness to this fact, she is highly educated and has worked her way through the ranks for many years. This was long before Small became Mayor.
Mayor Small lost his own Board of Education full time position years ago for political reasons.
Dr. Small is presently the Principal of Atlantic City High School.
Here is a brief synopsis of Dr. Small's educational credentials.
Doctorate in Education - Rowan University.
Masters Degree - Kean University.
Bachelors Degree BA/BS - Stockton University.
Central High School, Newark, New Jersey - Valedictorian of her graduating class.
Here are some additional relevant facts:
Dr. Small taught in the classroom for her first 6 years in the district, when she had the opportunity to be a Vice Principal early on. She felt that it was important to spend an appropriate amount of time in the classroom.
Small became an elementary school vice principal in year seven.
Elementary School Acting Principal.
Elementary School Principal.
High School Principal, credited with turning around both Atlantic City high school and the Pennsylvania Avenue Elementary school.
In short, Dr. Small is qualified to be the next Atlantic City Superintendent of Public Schools.
Also, the Atlantic City Public Schools appears to do better when a local candidate is selected.
There have been several out-of-town candidates selected over the past 30 years. This scenario has failed each time.
When the Board goes local, it has gone better, i.e., the late, great Fred Nickles, who was exceptional.
There is a uniqueness to Atlantic City that requires a level of political acumen that most educators lack.
Dr. La'Quetta Small will be unfazed by any political pressure brought to bear.
Dr. Small will also be able to effectively work with the state of New Jersey, which presently has powerful over-site of both the City of Atlantic City and the Atlantic City Public Schools System.
Atlantic City, at both the local and school purpose tax level are under the full control of the state of New Jersey.
I expect that the state will approve Dr. Small's promotion to Superintendent by without delay.
You can argue that the board could have found a more qualified candidate and many will do just that.
However, although Dr. Small has never been a Superintendent or Assistant Superintendent … she is qualified and has earned the opportunity to lead.
If Small receives the appointment and all signs point towards that she will … Dr. La'Quetta Small will make history … becoming The first African-American female superintendent in Atlantic city public schools history and she will become the first superintendent that is an Atlantic city resident.
I wish Dr. Small success, because when she succeeds, the students will succeed. We all should root for that.
Atlantic City's Firsts Throughout History
An Exclusive Look Back at the Golden Nugget, Atlantic City from 1980
21 Atlantic City Concerts That Turned 10 in 2021
We're looking back on some of the amazing artists who toured through Atlantic City back in 2011, some at the very beginning of their career (Lady Gaga; Nicki Minaj), others with some incredible special guests, and others who haven't been back since!