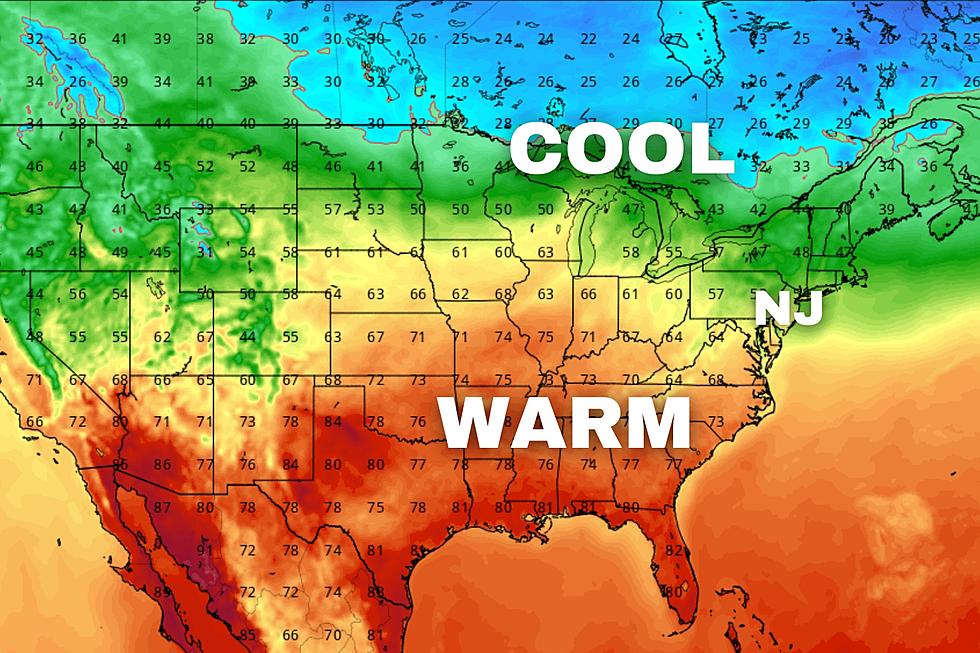 NJ Weather: A Week of Flip-flopping Temperatures, Occasional Showers
(Tropical Tidbits / Canva)
The Bottom Line
We finally had a great weekend! Although clouds won out on Saturday, temperatures were on the mild side throughout the Garden State — a few spots even hit 70 degrees on Sunday.
Unfortunately, Monday will not be a continuation of that beautiful weather.
The theme of this week is "transition". As we live right on the edge between cold air and warm air, the forecast contains daily temperature swings and somewhat active weather. Each day will literally be 10 to 15 degrees cooler or warmer than the day before.
No big storm systems, but there will be 2 to 3 batches of rain showers around.
The end result? By the weekend, sustained chilly air will once again take hold of the Garden State.
Monday
Cooler. By about 10 to 15 degrees, compared to Sunday.
The day begins with temperatures on either side of 40 — a seasonably chilly November morning. High temperatures will be limited to the mid 50s Monday afternoon, staying cool.
While skies will lean toward the brighter side early on, clouds will thicken up through the afternoon. A pretty uneventful day otherwise though, with light winds and dry weather during the day.
Sunset will be around 4:45 p.m. Monday. And the sun will set before 5 p.m. every day from now through January. Welcome back to Eastern Standard Time!
Late Monday night — after about 10 p.m. — spotty to scattered showers are expected to push into northwestern NJ. They will be on a trajectory to reach the northern Jersey Shore by daybreak Tuesday. (If they do not fizzle out by then.)
Just some raindrops here — no risk of severe or wintry weather. Patchy fog is a possibility too, statewide.
Overnight low temperatures will be near 50. But thermometers should actually start to risk between Midnight and sunrise Tuesday, thanks to an influx of warmer air.
Tuesday
Warmer. Maybe a little unsettled, but a few 70s are possible once again.
I am a little concerned that sporadic drizzle, mist, fog, and low clouds will linger through much of Tuesday morning. Then we should see solid breaks of sun into Tuesday afternoon.
Despite the shaky start, high temperatures on Tuesday will rebound nicely, to about 65 to 70 degrees. It will turn breezy late-day too, blowing out of the west at 20+ mph.
Wednesday
Cooler. Not a terrible day, just below normal.
I'm going with an optimistic "mostly sunny" forecast. A stiff breeze should sunside early on. High temperatures will only reach the lower to mid 50s.
Thursday
Warmer. This week's final influx of warm air will come with a few raindrops.
A quick round of showers is modeled to push into New Jersey early Thursday morning, likely pre-dawn. And the rest of the day will be mostly cloudy, but relatively pleasant.
The challenge with Thursday's forecast is temperatures, as we end up right on the line between air masses. There could easily be a 20 to 30 degree temperature gradient from one end of the state to the other. 40s in North Jersey, but 70s in South Jersey. Most of the state should lean toward the mild side, mainly in the 60s.
The Extended Forecast
The end of the week gets tricky. But the end result is clear: By next weekend, chilly air will be here to stay.
The big question mark in this forecast is Friday. The GFS model shows a wet day, with periods of rain from morning through night. The European model keeps Friday completely dry. There are other guidance packages out there, including the Canadian and UKMET models, that lean toward the drier side. So that's where I will settle for now, keeping a watchful eye on the forecast and hoping for better consistency as the week rolls along.
Highs on Friday, Saturday, and Sunday will only reach the lower to mid 50s. That is below normal for mid-November.
Even with three minor storm systems in the forecast this week, you will notice I am only talking about rain chances. No snow yet. With next weekend's influx of fresh, cold air, we could see some snowflakes and ice pellets around next week. Just the next thing to watch, as we dive deeper into autumn.
Solve these picture puzzles
Convert these pictures/Emoji into the correct responses. These pictures are NOT describing the answer — they're telling you which words and sounds to say. The answers are at the bottom.
Gallery Credit: Dino Flammia
POP QUIZ: Can you name all 10 interstate highways in New Jersey?
Gallery Credit: Dan Zarrow
More From WPG Talk Radio 95.5 FM